Marine Lawyer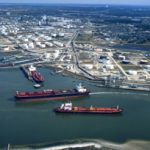 Marine law is a body of laws and policies that govern ocean and coastal resources and their use. This may include environmental and marine resource conservation, shipping, marine fisheries, navigation, salvage, and other maritime activities. Marine lawyers may work with private law firms, government organizations, the military, non-profit organizations, universities, and/or aquariums. Their work may involve providing guidance to decision- and policy-makers as well as designing and/or directing ocean and coastal legal research projects.
Bachelor's degree
Juris Doctorate (J.D)
Masters in Marine Affairs (M.M.A) (not required but respected)
Provides guidance on the national and/or international management of the ocean and coastal resources and their use. Issues addressed may include:

Coastal zone management
Marine protected areas
Coastal hazards
Fisheries management
Alternative energy
Offshore drilling

Piracy, and/or international trade
In addition to practicing ocean and costal law, one might conduct research or teach
Basic skills might include
Writing (scientific and persuasive)
Strong library research and critical thinking skills
Public speaking

Public interactions and public speaking (ability to explain things to diverse audiences)

Interpersonal skills; an ability to work along side others as well as independently
May need knowledge in
Core ocean policies including

The National Environmental Policy Act (NEPA)
Coastal Zone Management Act (CZMA)
Endangered Species Act (ESA)
Magnuson–Stevens Fishery Conservation and Management Act
The Clean Water Act.
At the global level, United Nations Convention on the Law of the Sea (UNCLOS)
Connections to Underwater Acoustics
The scientific community and the public have become increasingly aware of, and concerned about, underwater sound. There is a need to increase understanding the degree to which anthropogenic activities may be changing the underwater soundscape, how these changes may potentially impact marine animals , and what action can be taken to mitigate these potential impacts. In accordance with the Marine Mammal Protection Act (MMPA), marine mammals cannot be hunted, harassed, captured, or killed. Individuals must apply for a permit in order to conduct research and/or other activities that may impact marine mammals. Incidental Harassment Authorizations (IHAs) or Letters of Authorization (LOA) may be issued to groups incidentally "taking" small numbers of marine mammals and/or casing a "neglible impact". Most IHAs and LOAs have involved the incidental harassment of marine mammals by noise (airguns , ships and aircraft, high energy sonars, and explosive detonations ). The National Oceanic and Atmospheric Administration (NOAA) is developing science-based acoustic guidelines for assessing the effects of anthropogenic sound on marine mammals. This will help guide the permit process. Draft guidelines are also being considered by the International Maritime Organization (IMO) to reduce underwater noise from commercial ships, giving special consideration to propulsion, hull design, onboard machinery, and operational modifications.
Maritime Lawyer
Marine Policy Advisor
Marine Resource Manager