Electrical Engineer
Electrical engineering is a field of engineering that generally deals with the study and application of electricity, electronics, and electromagnetism. It covers a wide range of subfields including electronics, digital computers, power engineering, telecommunications, control systems, and signal processing. Electrical engineers use science, technology, and problem-solving skills to design, develop, test, maintain, and supervise the manufacturing of electrical equipment such as electric motors, radar and navigation systems, sonar systems, communications systems, and power generation equipment.
Electrical and electronics engineers work primarily in industries that conduct research and development, for engineering services firms, in manufacturing, and in the federal government. They may have positions in laboratory and fabrication environments, the office of a consulting firm, or at a field site. They may also supervise a wide range of individuals including scientists, electricians, computer programmers, and other engineers.
Bachelor's degree in electrical engineering, electronics engineering, or other relevant area of engineering

Some colleges and universities offer cooperative programs in which students gain practical experience while completing their education.
Some colleges and universities offer 5-year programs that allow students to obtain both a bachelor's and a master's degree

Graduate degree in science, engineering, or math required for advancement. PhD necessary for independent research and academic positions
Engineers may seek a Professional Engineering (P.E.) license by a state or the federal government
Electrical engineers may have a variety of responsibilities depending on the specific nature of their job. These could include:
Designing, developing, testing, and supervising the deployment of electrical systems, electronic devices, facilities, components, products, and/or systems

Selecting technical solutions, materials, test equipment, and procedures, to manufacture and produce of safe, economical, high-performance products and services
Carrying out feasibility studies for new technical developments
Drawing up project plans, using computer-assisted engineering and design software
Overseeing inspection and maintenance programs

Establishing manufacturing, construction, or installation standards or specifications
Managing a team of technicians or other engineers

Estimating costs and project timescales
Discussing proposals with clients

Attending meetings, writing reports and/or giving presentations
Basic skills might include:
Research and development

Ability to understand the technical language and concepts that relate to electrical engineering
Develop procedures for testing products
Design or redesign electric/electronic devices; develop prototypes

Ability to produce and interpret accurate drawings
Software design

Data collection, analysis, and modeling (of electrical/electronic products/systems)

Strong numerical skills
Test and analyze the feasibility, operation, and performance of equipment
Investigate and evaluate equipment for potential failures; make recommendations for maintenance, modification, and/or repair

Establish and coordinate safety procedures
Interpersonal skills

Perform personnel functions, such as supervision of production workers, technicians, technologists and other engineers

Monitoring technicians to see that plans are being implemented properly
May need knowledge in:
Applied Engineering
Applied Mathematics and Statistics
Chemistry
Computer Science/Software Design
Digital Systems Design
Electronics
Mechanics
Physics
Public Safety and Security
Signal Processing
Connections to Underwater Acoustics
Electrical engineers work with energy, including electricity, light, electromagnetic fields, and sound. They develop tools and techniques to sense, measure, convert, transmit, control, and receive energy. Electrical engineers have contributed to the development of a wide range of technologies, including acoustic technologies.
Electrical engineers are involved in design and maintenance of sonar (SOund Navigation And Ranging) systems. Sonar is the generic name of the technology that is used to locate objects underwater. Sonar systems generally use highly directional beams of sound when searching for targets. In this way they are able to determine direction to the target, as well as the distance. Sonar systems are of two basic types – active and passive. In active sonar, the system emits a pulse of sound and then the operator listens for echoes. In passive sonar, the operator listens to sounds emitted by the object one is trying to locate.
Engineering acoustics can also deal with transducers and sound measuring instruments of all kinds. A transducer is a device that converts sound energy into some other type of energy or vice versa. A microphone converts sound energy into electrical energy, and a hydrophone converts underwater sound energy into electrical energy. Electroacoustics is a branch of engineering acoustics that deals with microphones, loudspeakers, and other transducers, as well as the recording and reproduction of sound. Engineering acoustics also includes instrumentation for medical diagnosis, communications, seismic surveying, recording and reproducing speech and music, and other challenging issues.
Example of someone in this career
Matthew Coolidge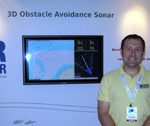 Matthew Coolidge is a senior Electrical Engineer at FarSounder, a company specializing in 3D Forward Looking Sonar technologies. After completing his B.S.E.E at the University of Rhode Island, he began working at FarSounder within a year of graduation.
As one of the first members of the FarSounder team, Matthew has helped develop products from initial design phases to a commercial product series and a successful brand. Now with over twelve years experience, Matthew's responsibilities include designing prototype and production electronic systems hardware. This includes evaluating and implementing component technologies such as programmable logic, environmental sensors, communications protocols, and power regulating devices, as well as authoring and maintaining test procedures and technical product literature. In addition to hardware development, he has also worked extensively on embedded firmware and advanced signal processing algorithms. Matthew also has vast experience configuring and maintaining information technology systems such as data storage servers and network hardware and appliances.Working directly with customers worldwide, Matthew also assists with product demonstrations, technical training, and systems integration.
Aviation Engineer
Biomedical Engineer
Computer Scientist
Electrician
Electrical Engineering Technician
Mechanical Engineer
Ocean Engineer
Physicist
Software Engineer
Sonar Designer
Transducer Engineer