Commercial diver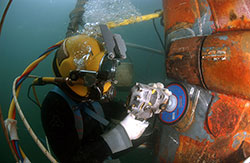 Commercial divers build, repair, and inspect structures that are underwater. Divers may weld underwater cracks in offshore oil and gas rigs, lay the foundation for a bridge piling, inspect pipes in water treatment plants, or rig and remove a 300,000-pound piece of concrete from a river bottom. Commercial diving is hard physical work; it is critical that commercial divers be able to adapt quickly under adverse conditions and work efficiently. Depending on the location or type of project, commercial divers may work under difficult conditions including tight spaces, low visibility or long durations in cold water. Some commercial divers may travel extensively based on where their expertise is needed.
High School diploma or equivalency
B.S. is suggested but not required (having a strong education and science background, coupled with professional diving skills may present interesting opportunities)

There are some schools that offer commercial diver training and certification as part of an accredited two-year college degree program.

Diving Certification(s)

Commercial Diving Certification (International Marine Contractor Association (IMCA) commercial diver certification)
Sport Diving Certification
Most commercial divers work underwater, using scuba gear to inspect, repair, remove, or install equipment and structures. The specific tasks and duties of a commercial diver depend on their field of employment and may include:
Bridge inspection, construction, and repair
Oil/gas platform or offshore wind turbine construction, inspection, maintenance and removal
Rock drilling and blasting (rigging explosives)
Underwater salvage, search, recovery, and cleanup
Seismic surveying
Underwater welding and cutting
Water line installation, inspection, repair and maintenance
Marine environmental control checks
Investigating underwater structures or marine life via underwater video, sonar, recording, and related equipment
Deploying oceanographic instruments
Underwater painting
Supervising and training of other divers, including hobby divers
Basic skills may include:
Small boat operations
Good physical and mental health

Applicants must pass a diving physical
Ability to work efficiently and problem solve quickly (divers can spend only a specific amount of time underwater)
Ability to adapt under adverse conditions – Commercial divers may be out to sea at work for 2-6 weeks at a time
Good coordination

Mechanical aptitude

Technical expertise and skill with a variety power and hand tools, such as drills, sledgehammers, torches, and welding equipment
Repairing and maintaining mechanical equipment
Ability to understand construction specifications; read work order, instructions, formulas, or processing charts

Interpersonal Skills

divers often work in teams, with some divers in the water and others helping from the shore or on a boat. They are in constant communication and must be able to effectively signal directions or warnings to coworkers.
May need knowledge in:
Communications (underwater)
Diving physics
Diving equipment and underwater tools (and maintenance thereof)

Maintain diving equipment such as helmets, masks, air tanks, harnesses and gauges

First aid/CPR
Marine science
Marine safety and seamanship
Navigation
SCUBA diving procedures

Decompression tables and procedures

Standards for commercial diving
Connections to Underwater Acoustics
While underwater, a diver is in continual communication with helpers and other divers on the surface. These workers watch air hoses, clock time underwater, maintain logs, and give the diver instructions and assistance. Commercial divers sometimes work in pairs or groups depending on what they field they are in. Special underwater communication systems have been developed to allow divers to talk to each other underwater. A transducer is attached to a diver's facemask, which converts his or her voice into an ultrasound signal. A fellow diver has an ultrasound receiver, which accepts the signal and converts it back to a sound that the diver can hear, allowing for communication. The same system can be used for communication between the diver and a surface ship. This is vital for divers that are in murky water and cannot use hand signals to communicate to fellow divers.
Civil Engineer
Dive Safety Officer
Marine Archeologist
Marine Biologist
Marine Technician
Ocean Engineer
Oceanographer
ROV Pilot/Technician
Seismologist
Survey Technician
Welder